Diablofans.com member Yngvar has an extensive collection of fan art up in the Diablo 3 Art section of the website. Users have enjoyed his art for some time now but only recently has he been getting some attention from the online deities at Blizzard! They've posted 4 new pieces of artwork recently and included some work from Yngvar in a recent Diablo Fan Art update!
Here's a look at the story and artwork from the Blizzard Diablo-Themed Fan Art post:
Blizzard has just uploaded four new pieces of Diablo fanart! The first artwork is by our very own member, Yngvar. Congratulations!

Check them out!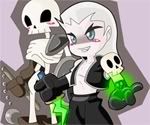 I think they are great! Who's up for submitting some more artwork to add to the collection? I know I am.

Thanks Dauroth for noticing the update first.